What is a Hub?
Peterborough City Council and a number of primary, secondary and special schools are working together to create a network of specialist hubs in schools across the city. These Hubs are developing to become 'centres of expertise' to help improve the support for all children with special educational needs and disabilities in all schools in the Peterborough area. The primary focus of a Hub is to equip themselves and other schools to support students with specific SEND. Some of these Hubs have a limited number of places for students.
Find out more about the network of Hubs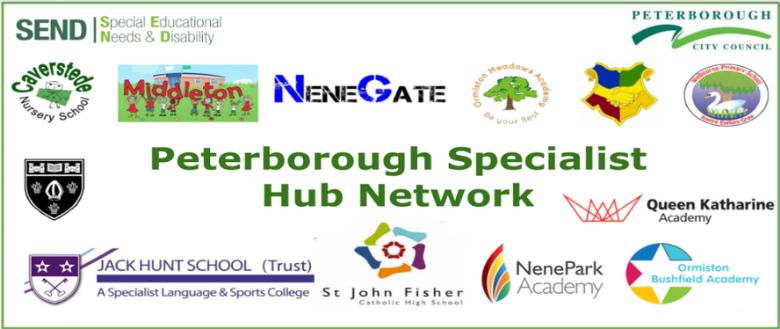 What is the Specific Learning Difficulty Hub?
The hub base for Specific Learning Difficulties (SpLD) is at Thomas Deacon Academy.
To be considered for a place in the hub, students must have an Education, Health and Care (EHC) Plan which states dyslexia or SpLD as the primary need and where it is deemed that needs cannot be met solely through mainstream provision, thus requiring specialist input.
A student within the hub has the potential to manage the elements of an academic and social environment of a mainstream school with specialist skilled support and consistent implementation of an individually tailored programme.
Admissions for a hub place are via the SEND Panel at Peterborough Local Authority.
Please contact Peterborough Local Authority for more information.
We are fortunate to have a number of teaching spaces and classrooms allowing bespoke 1:1 or small group work to take place.
What type of support will a student within the hub receive?
Students that access the hub will receive a personalised programme of support tailored to complement individual strengths and preferred learning style.
Skills of reading, writing and spelling continue to be taught through multisensory teaching methods, which include dynamic interactions, physical activities, kinaesthetic learning, employing visual images and animations, drama, audio and video clips, mind maps, dialogue and use of specialist technology and software.
As students with dyslexia sometimes have problems with cementing knowledge into their memories, there will be opportunity to systematically revisit and overlearn key concepts taught within mainstream lessons.
Study skills and organisation are actively and specifically taught, including: mind-maps, mnemonics, paired teaching, exam skills and memory training activities.
Students will be supported to transfer and develop taught skills into mainstream lessons. Depending upon the individual needs of students accessing the hub, opportunity to develop social skills, self efficacy and independence can also form part of a student's personalised programme.
Aims of the Specific Learning Difficulty Hub
Develop happy and confident young people who recognise their strengths, skills and qualities.
Develop curious and enquiring minds with a thirst for learning.
Inspire and nurture creativity.
Provide a personalised learning programme that ensures young people continue to make progress.
Equip young people for life, developing independence and effectively preparing them for their next steps.
Provide young people and their families with a voice and involving them in every aspect of decision making around provision.
The Hub aims to continue to develop skills in:
phonological skills
reading skills and reading comprehension
writing and spelling
organising thoughts and recording ideas.
vocabulary, receptive and expressive language
mathematical language & sequencing
organisational skills
study skills
memory, life skills & strategies
metacognition and making the most of your strengths.
self efficacy, confidence and independence.
How will the hub approach teaching my child?
Following a diagnostic assessment process which will assist to identify strengths, gaps in learning and barriers to learning, a personalised programme will be designed and reviewed every ½ term.
The programme will be designed to include effective strategies that compliment a student's preferred learning style.
Through multisensory teaching methods including practical activities and tasks, visual images and animations, audio and video clips.
Playing a variety of motivational learning games related to interests.
Following an appropriate structure and routine to lessons.
Opportunity to revisit and overlearn taught concepts.
Using practical input and suitable software.
Supporting students by providing a responsive and understanding environment.
Supporting students to use and apply taught strategies into mainstream lessons.
How will my child be supported in lessons within the main school?
The level and type of support provided to students within mainstream lessons will vary and be dependent upon the individual needs of the student.
Possible support could include:
Access to additional adult support in lessons.
Additional adult support in lessons to ensure understanding of task, to scaffold learning tasks and to break down tasks into smaller chunks if required.
Additional adult support could act as a reader or a scribe.
Additional adult support to ensure that successful strategies used within the hub are applied into mainstream lessons.
Use of specialist software and technology such as Dictaphone, Clicker 7/ Docs Plus, Dragon Dictate, epen, Microsoft Immersive Reader etc.
To ensure that effective strategies are fully communicated to teaching staff.
All teaching and support staff within the main school have received specialist dyslexia friendly training from British Dyslexia Association.
Students who receive SEN Support or who have an EHCP have a learning plan drawn up.
A learning plan outlines effective classroom strategies to support teachers in their planning and differentiation for individual students.
Regular 'teach meets' will take place, providing an opportunity for SENDCo, Specialist Teacher and class teachers to meet and discuss effective strategies for individual students.
Thomas Deacon Academy are working towards achieving Dyslexia Friendly Quality Mark, ensuring that dyslexia friendly practice is embedded within mainstream lessons.
Developing a Centre of Expertise and Support for Local Schools
The Hub provides a service to schools across Peterborough and shares good practice.
This includes:
Promoting and supporting the delivery of high quality, inclusive teaching.
Practical demonstrations and modelling of technology and resources.
Delivering training on topics related dyslexia.
Supporting schools to meet the needs of students with traits of dyslexia.
Supporting schools to work towards Dyslexia Friendly Quality Mark or Literacy Leap accreditation.
Key Staff
Ms G Kenlin

Assistant Principal – SENDCo

Coordinates and oversees the provision within the SPLD Hub.

Drawing up personalised and bespoke programmes for individual students within the hub.

Support reviewing of programmes each half term.

Support with training of teaching staff