Sport has a cross-College function, providing a full range of sports, extra-curricular activities, PE lessons and extensive fixture lists. Sport at Thomas Deacon Academy is focused on excellence and participation. Staff in Sport are driven by results and outcomes, and focused on providing opportunities for all students to find an activity to participate or compete in.
Staffing
Sport is headed by John Hinch, Director of Sport. John is supported by 3 Lead Teachers, a Student Achievement Leader, 10 Teachers, a Fitness Instructor, a School Staff Instructor (CCF) and a number of Sports Coaches including International Hockey and Badminton coaches.
The other staff based within the College include a College Administrator, who provides a link between students, parents, staff and other Colleges, a Sports Technician and 1 subject-specific Teaching Assistant. In addition, the Head of Grounds and Groundsman work very closely with Sport to maintain the grounds and sports pitches, which help make us such a special Academy.
Subjects and Qualifications
Within Sport, a full range of sports and activities are offered to all year groups. These include gymnasti
cs, OAA, climbing, short tennis and gym/aerobics.
In addition, the Sports team leads the Duke of Edinburgh Award (right), with over 200 students participating in Bronze to Gold Awards; and the Combined Cadet Force (CCF) (right), with over 100 students involved.
Qualifications offered include:
A Level Sport
GCSE Physical Education
BTec Sport
Junior Sports Leader Qualification
Public Services exams (as part of CCF)
Please note: these may change in light of demand and availability of courses.
The Sports team also runs full public school fixture lists and the Academy boasts a number of successful competitive teams in hockey, rugby, cricket, rounders and netball. Notably, our U18 indoor boys' hockey team made it to the finals of the National Indoor Tournament 2014 for the third consecutive year and the National Outdoor Tournament for the first time in the Academy's history.
Highlights of 2013/2014
U18 boys' Indoor Hockey Team – East Regional winners and National Competition finalists.
U18 boys' Outdoor Hockey Team – Regional winners and National Competition finalists
U18 and U13 girls' Outdoor Hockey Teams made the Regional finals for the first time.
U12 girls' Rounders Teams – Peterborough Schools Champions 2013
U15 boys' Rugby Team – Peterborough Rugby Cup Champions 2013 and made it to the last 64 of the National Daily Mail Vase competition
U12 and U13 girls' Sports Hall Athletics county finalists
Facilities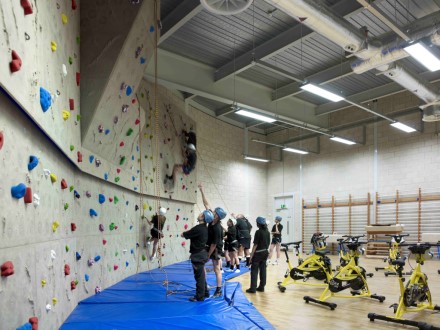 Sport has 2 fully-equipped fitness suites, a large gymnasium with climbing wall (right), a 6 badminton-court sports hall and extensive grounds with sports pitches (including 4 rugby, 2 cricket, 4 netball courts) and an all-weather pitch.
Sport also has access to the Academy's lecture theatres and ICT facilities, as well as a well-resourced Multi-Media Resource Centre and Pod (Mac suite). All Academy classrooms are fitted with an interactive SMARTboard.
Extra-Curricular Activities
The Sports team offers a wide range of extra-curricular activities, including kayaking, skateboarding, CCF, Duke of Edinburgh Award Scheme, gym club, plus major sports of rugby, hockey, netball, tennis, athletics and rounders.
Professional Development
CPD is given a high priority within the Sports team, with the aim of delivering wider ranging activities and sports being at the heart of the team's development. Alongside whole Academy CPD, departmental inset training takes place to develop and share good practice amongst colleagues. There are good opportunities for upward development within the team, and many staff have been given specific areas of responsibility.
In addition, the Academy has a full, regular CPD programme on a weekly basis, with a variety of sessions offered across teaching and learning, ICT and leadership development. A generous CPD budget is also available to fund development via external courses.
Please Contact Us if you require further information